Pete Carroll's focus was always on how he could keep USC on top, not how he could get it back there.
It's USC, Pete would tell you soon after his arrival. How could you not get it back on top as long as you were willing to compete the way Pete was, do the right things, not take the shortcuts or the easy way out.
Pete, of course, was thinking of staying on top for years, certainly from one year and one national championship to the next.
Now, as much as interim coach Donte Williams talks about "going 1-0" on the next practice, the next play, the next day, it's obvious that the Trojans' time is clearly up. That Washington State surprise rebirth thanks to rookie quarterback Jaxson Dart's Sam Darnold-ish three quarters effort got them back on top for what, a nanosecond or two?
Whatever they did right in playing fast, physical and together a week ago seems like the lucidity that people in comas on their deathbeds have when they gain consciousness merely long enough to say goodbye.   
No matter how badly "he who shall not be named" screwed the program up, Pete knew — he absolutely knew as did his players by Year 2 — that he could get USC football back to where USC football should be.
No way one coach, Pete figured, no matter how bad the guy was, could he bury USC so deep that the right coach could not restore it. And in a hurry.
But none of those unqualified USC coaches were given free rein for the six or seven years that Clay Helton was gifted to deep-six one of the nation's handful of historic college programs. Or allowed to hang around for years past the day it was obvious exactly where the dry rot was coming from.
We'll guarantee you that if Carol Folt's new presidential mansion or AD Mike Bohn's home or office or even Board of Trustees Chairman Rick Caruso's 216-foot, $100 million super-yacht Invictus were found to have the kind of rot that has hollowed out the USC football program, you wouldn't have heard any of them say how about letting it play out a couple more years and maybe we'll do something about it then.
No way the house comes crashing down that quickly? Right? Or the yacht — "Invictus" meaning "Unconquerable" — sinks? We've got time, they've been telling themselves. We can skate for a while. The fans will get over it. They always do.
And maybe they have a point. Heading out and about today in Greater Cincinnati, I was astonished to see how many people were wearing Bengals gear — no, really, Bengals gear! And who knows, it may just be paying off for them after all these years wandering in — not THE JUNGLE — but the wilderness.
So anything is possible.
But some things out of Oregon State's 45-27 stomping of the Trojans Saturday will be darn near impossible to get out of USC fans' heads — assuming there are still enough USC fans out there to matter. As will the consequences of those memories.
Like this one: I just listened to The Athletic's Notre Dame beat guy Pete Sampson, top interpreter for all things Irish. He was talking about this Saturday's Cincinnati visit to South Bend. He said if you'd have told him five years ago that the Cincinnati game would be sold out but the USC game, three weeks later, would not be, he would have said that's not remotely conceivable.
You could almost see him shaking his head through the car radio. What is this world coming to? Notre Dame's historic intersectional opponent in the rivalry that made both teams national powerhouses taking a back seat to Cincinnati's Bearcats?
But that makes the case that Bohn and his lieutenant Brando Sosna like to make for his successful Cincinnati tenure. Bohn hired Luke Fickell, after a year as Ohio State interim coach and a couple more as defensive coordinator after Fickell got beat out for the top Buckeye job by Urban Meyer.
Note that Bohn did not feel the need to hire assistants and staffers for the old Cincinnati coach, Tommy Tuberville, who was well past his "sell-by" date the way he did as workarounds for keeping Clay at USC. Or for Fickell. No one thinks that could work. Not in Cincinnati. Not at USC. You have to have the right coach. It starts and ends there.
You'll notice Bohn no longer talks about the basketball coach he hired at Cincinnati to replace Mick Cronin, the Cincinnati alum and native son who eventually left town and Bohn's athletic department for UCLA. The coach Bohn hired was later fired and is now suing the school. As for Cronin, he'll be in LA for a long time reminding Bohn, and USC, just what kind of coach Bohn lost there.
As for Saturday's historic loss in the Coliseum, you don't need me to cuss and discuss it. USC's historically bad 0-2 home start in the Pac-12 says it all. And not just two losses, two absolute routs.
Too bad someone in the presidential suite didn't put out a call in the third quarter Saturday for Bohn, Folt and Caruso to report to the three biggest Coliseum gates for the rest of the game as USC fans fled the premises to tell them how sorry they were for allowing this to happen. And how they'll never let it happen again.
If there is an upside here, it's this: There is no excuse for anyone at USC not to know how serious the decision for the next coach is now. None of this "We tried . . . or Who knew that about him?" . . . or "Well he was a good coordinator" . . . or "a great Trojan" . . . or "the NFL people recommended him" . . . or "He seemed like a great guy" . . . or "He's really a collegial person" . . . or any of that.
Because here's the problem now. With Saturday's game, this USC coaching staff just fired itself. Even for Donte, whose recruiting reputation will probably stand him in good stead somewhere but maybe not for a new coach coming in to USC. How could he not ask the question: "Who recruited this roster? Did you really think they could play?"
And yeah, we know people are already saying this just proves how bad a job all those high school talent evaluators do. That no way USC has the No. 10 most talented roster in the nation as reported here by the 247 folks.
But then how do you explain this: Here are the Nos. 1-9 teams in terms of talent: 1) Alabama 2) Georgia 3) Ohio State 4) Clemson 5) LSU 6) Oklahoma 7) Florida 8) Texas A&M 9) Oregon and 10) USC. Nothing all that completely out of place there — except for USC.
So what's clear here is that the new USC head coach must be a driven recruiter, like Pete was because he was such a terrific competitor and that's the way head coaches compete. Or Oregon's Mario Cristobal? He just crushes it.
Or Urban Meyer. Heard from a parent with three sons playing college football at three different top programs that it wasn't even close, Urban Meyer was the best recruiter he'd ever been around and he'd seen and dealt with just about all of them.
Because just ask yourself with a coaching staff all having to find new jobs for themselves and new schools for their kids and having to leave a town where they've just settled in, how many calls can they make to recruit players for someone else's team?
Or should they even? Shouldn't the new coach have an open field to build his own program? And yet, with the roster on display Saturday, can USC possibly move forward without a significant and immediate talent influx?
Start with quarterback. If Pete were still here and in his college prime, can you imagine that both No. 1 Alabama and No. 2 Georgia would be quarterbacked by players from USC's historic feeder program Mater Dei where they played for national championships for a former Trojan football player?
Or that both are not here — Georgia's JT Daniels as a former starter before his injury or Alabama's Bryce Young, as a former USC commit, because neither trusted offensive coordinator/quarterbacks coach Graham Harrell to give them a fair shot going head-to-head with his guy, Kedon Slovis.
And who wants to go from a high school competing for national championships to a college program where winning the Pac-12 South is considered a hell of an accomplishment.
All of which gets us to an Oregon State team that beat up on USC with a roster full of Southern California kids who couldn't get a phone call from USC coaches. Maybe one OSU player had even gotten a sniff from USC recruiters.
Of the players ranked on this OSU roster, there were a mere six four-stars and 65 three-stars — 18 of whom were from Southern California — and no five-stars, good for No. 54 in the nation. USC, at No. 10, had 43 four-stars, 49 three-stars and two five-stars, neither of whom is playing right now.
As for history, under new coach and former Beaver quarterback Jonathan Smith, Oregon State was 9-22 in their long rebuild the last three seasons. Their previous coach just walked away after a loss at the Coliseum in 2017. Just said that's it, I'm out of here.
And now here they are, from the metropolis of Corvallis, population 59,812 with all of four Zip Codes. Four. I stopped counting for LA County at 470 or so. And where under Google's "Colleges and Universities" listing for Corvallis, after the first three OSU schools, the fourth is "Phagan's Beauty College."
Oregon State is one of the half-dozen Pac-12 programs ESPN and Fox can't find any reason to offer the conference anywhere near the TV money the Big Ten and SEC are getting. And now along comes USC, devaluing the already devalued Pac-12 brand even more.
But if there's one takeaway for me from Saturday, it's this. A team from Oregon, a state with fewer big-time college football prospects than Mater Dei — and by a lot — came into the Coliseum, a place where they hadn't won a game since 1960 against a USC team they'd only beaten 11 times in 78 meetings all time and just four times in the last 40, and here's their gameplan.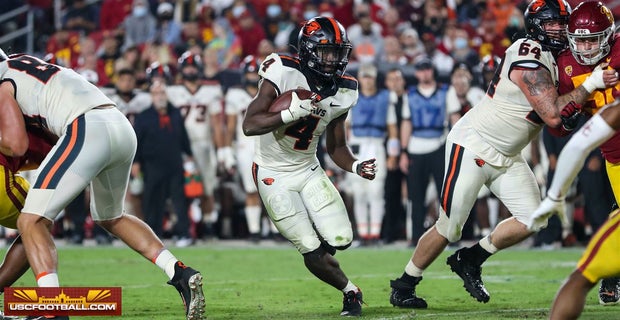 They were clearly going to go nose-to-nose against the Trojans. We're going to block them and tackle them, they told themselves. We're going to out-physical them. We're going to stuff them into their own end zone every chance we get. We're going to gash them with our run game, which will include a smart, scrambling Inland Empire quarterback, Chance Nolan, who will not wilt when the rush comes.
Basically, we're going to line up and run the ball down their throats. We're going to knock them off the line of scrimmage. Then we'll pass it when we want to. You know, the way USC used to beat the bejabbers out of us all those years. The way Clay Helton promised the people who hired him that was the way USC was going to play until he realized he had no idea how to do that.
Forget that gimmicky "air raid" stuff, they told USC. We're the mighty Beavers. Who needs that stuff. It doesn't work at this level against Power Five athletes. We have guys who can run block and pass block up front. And a back who can run with power. And speed.
On defense, we're going to muscle them, the OSU coaches told their kids — especially that one big-time player Drake London. Sure, they'll probably call us for getting all over him, but that's the way we play. Football is a physical game. We're going to show the Trojans that. They clearly don't like to play that way. It was the hallmark of the coach they cleared out last week. No way they can change that overnight.
We're going to play fast, take the right angles in the open field and tackle them, something they have no idea how to do with that helter-skelter defense that can't get lined up right. They're the patty-cake boys with the fingernail take-downs. We're going to knock them down. And they're not going to like the way that feels.
That's all. Block and tackle. Run the ball. Stop the run. Be physical. Be the tougher team, the team their coaches tell them they're supposed to be but watching their film, it's obvious they have no idea how to do.
Actually, it's obvious they have no idea how to do lots of things. Like play the way they did a week ago. Next week? Who knows.
After the Washington State game, this was a USC team that looked like it could at least be in every game the rest of the way.
Now the question is whether a team with a quarterback not quite athletic enough to scramble out of trouble or throw accurately on the run and a defense that can't stop the run or the pass has any immediate positive prospects?
Lots of USC fans the last two home games have answered that question with their feet. Getting rid of Clay was not the answer. Not in 2021. Maybe in 2018 or 2019.
But this ship is sinking. Has been taking on water for years. And no one seems to know where the life preservers are.
FIGHT ON! anyone?