CINCINNATI — Despite an uptick in the local vaccination rate, COVID-19 continues to stress Greater Cincinnati hospitals at levels not seen since last winter.
Hamilton County Commissioner Denise Driehaus said Wednesday morning that 1 in 5 patients in Greater Cincinnati's 2,400 hospital beds has COVID-19. She said she heard from the Health Collaborative that in intensive care units, the number is closer to one-third, or 167 patients. About 125 are on ventilators.
As of Wednesday, there are more than 9,000 active COVID-19 cases in Hamilton County alone, going up by about 2,787 cases each week over the past three weeks. Numbers were down to as low as 13 cases per day countywide at one point earlier this summer.
During that same period, the county averaged more than 30 deaths per week, bringing the region's total up to 1,434 during the pandemic.
"We continue to see these numbers go up each week, meaning we're putting a lot of stress on our (health care) system," said Greg Kesterman, health commissioner for Hamilton County Public Health. "Our systems are busy, our systems are stressed."
Hospital and ICU beds are full
Last week, the Health Collaborative stated in a media update that incidences of COVID-19 remain high, and all indicators continue to "move in the wrong direction."
Each of the 14 counties in the southwest region, including Hamilton County, continue to have an incidence of new cases in the highest CDC classification ("high"), wrote Christa Hyson with the Health Collaborative.
The number of patients in hospital and ICU beds remains on an upward trajectory, at its highest point since last January and February.
As of Friday, a total of 94% all normally staffed regional hospital beds are in use, 101% of normally staffed ICU beds are in use, per the Health Collaborative.
"The intensive care beds in the Cincinnati region's hospitals are full, with COVID-19 patients now making up roughly 1 in 3 ICU patients," Hyson said. She added that the figure is near the upper range of the level that hospital staff describe as "critical operations."
Hyson said having hospitals operating at a critical level, or "in the black," for an extended period of time "overwhelms our resources, our health care systems, but most concerning – our already stressed-out health care workforce."
Vaccination rates moving up in some key demographics, but work left to do
Kesterman said there is some good news related to vaccination rates. Currently, 66% of all eligible Hamilton County residents (people over 12) have at least started the vaccination. They've also reached their desired threshold of 80% of all residents over the age of 65.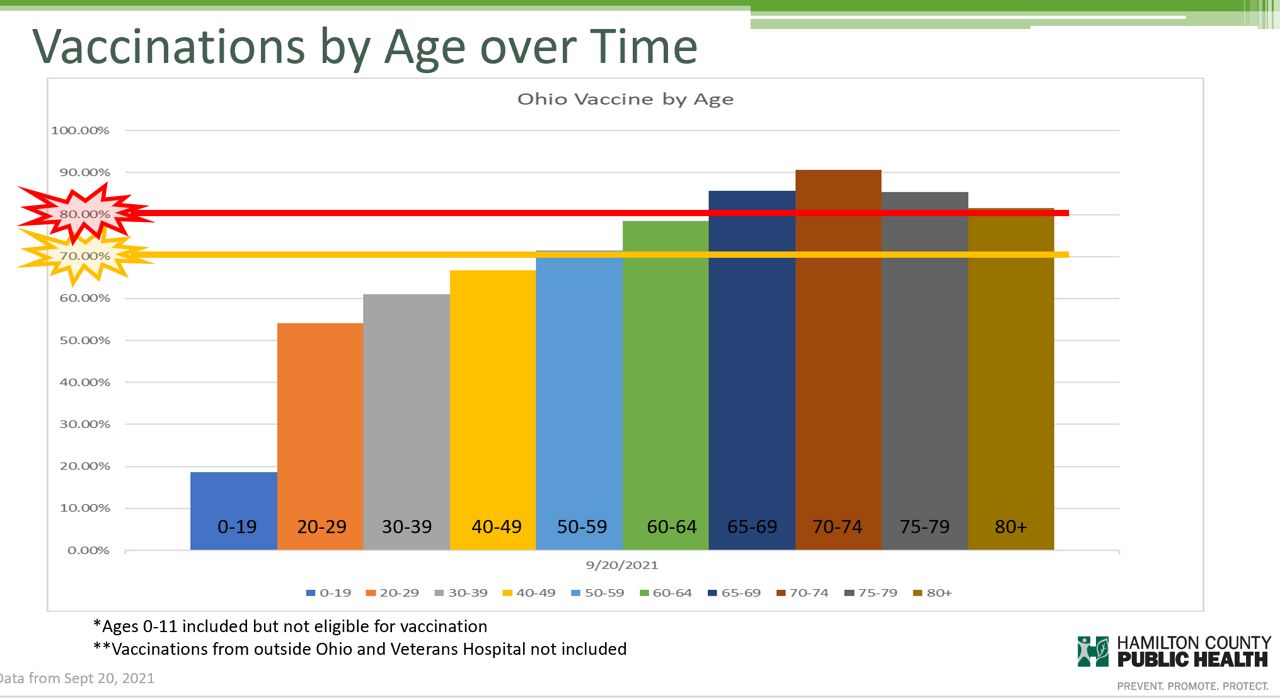 That 80% number is key, Kesterman said, calling it a "known benchmark" for limiting community spread.
Hamilton County lags far behind on vaccination rates for individuals between the ages of 12 and 49, though.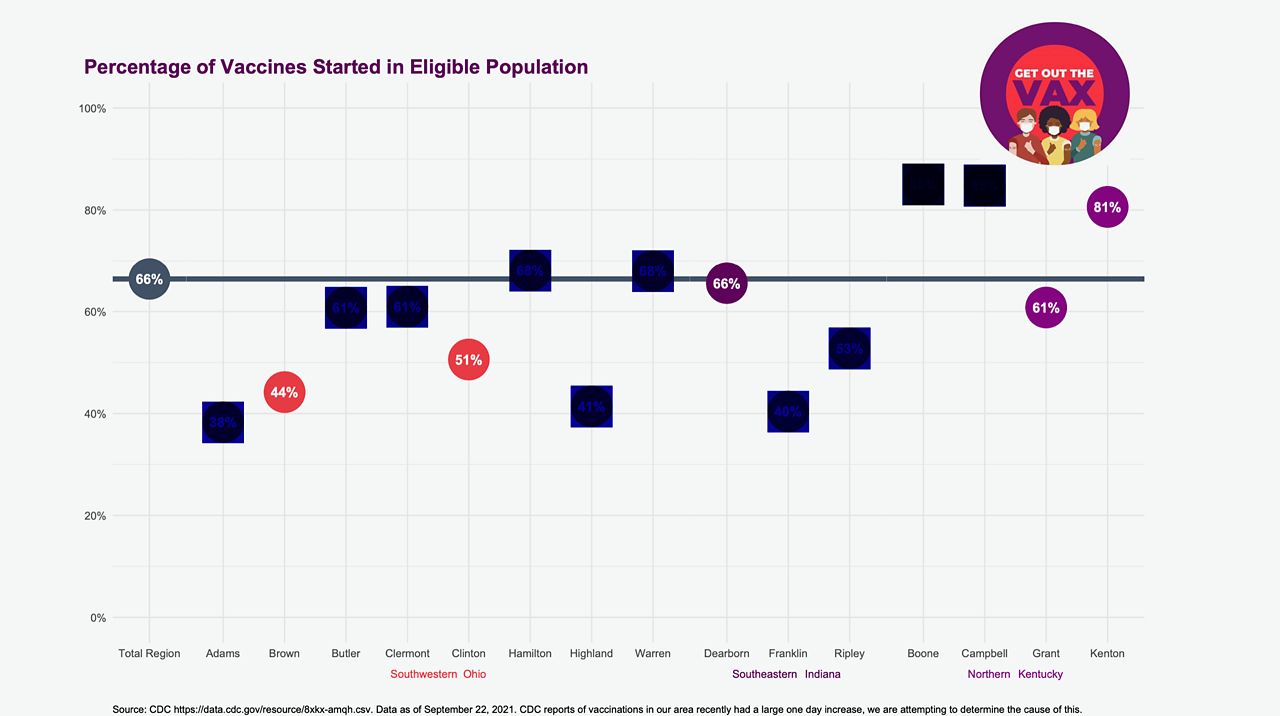 The vaccination rate for people 50-64 is above the desired state figure of 70%, but they still have work to do to get to that all-important 80% figure. The largest population of local hospitalizations is in the 50-59 range.
"We are seeing a much younger age demographic within our hospital systems and, in large part, this represents the unvaccinated population now getting sick and ending up within our hospital systems," Kesterman said.
Continued 'onslaught' on hospital staff and medical workers
Dr. Rick Lofgren, president and CEO of UC Health, called the lack of vaccinations an unnecessary "onslaught" on local hospital systems, which are struggling with resources and staffing.
"We really don't have the individuals and staff that we saw in the winter," he said, adding that some health care workers made the decision to leave the field after the COVID surge last year.
Lofgren said, at its peak, the region had up to 800 hospitalized beds full of COVID patients last year — and it "pushed the system to the brink." They have about 600 beds right now with fewer resources.
"Staff was taxed at a level I've never seen before," he added.
UC Health and other hospital networks in Greater Cincinnati and across the region have mandated that staff receive a COVID-19 vaccination.
When asked about the policy, Lofgren acknowledged it may affect some employment decisions. But he said, nationally, the "exodus" of staff over the requirement has been very limited.
Lofgren said he was surprised by the perceived "pushback" about this particular vaccine as the hospital already requires staff to receive other vaccines. He added that staff vaccination numbers are going up ahead of the October deadline.
The Health Collaborative has been a vital resource for hospital systems because it provided real-time, system-wide situational updates and enabled the hospital networks to coordinate and troubleshoot any problem areas, Lofgren said.
Pursue the 'right level of care'
Given the strains on the system, Lofgren said those who test positive or are feeling ill should consider the "right level of care."
If a person is experiencing symptoms and those symptoms are worsening, a person should go to the emergency room, Lofgren said. But if they've tested positive and/or their symptoms aren't severe, they should start with their primary care physician or visit urgent care.
"If you've got something that can be handled elsewhere, do that," he said. "Emergency rooms should be reserved for emergencies. Our health care workers are exhausted."
Driehaus also reminded people of two easy things they can do to help the situation: Get vaccinated and wear masks.
"It's essential to recognize that and be kind to those health care workers and there's no greater act of kindness than to get the vaccine," she said.
Hamilton County residents can find information about COVID-19 testing and vaccination at www.hamiltoncountyhealth.org/covid19.