When it comes to snack foods, the Queen City has no shortage of options. We're home to Graeter's Ice Cream, multiple local chili chains and nearly 70 LaRosa's Pizzeria locations. But a whole new world of locally-made snacks is beginning to take root in Greater Cincinnati.
Cincinnati's food entrepreneurs boast an increasing array of fresh, organic and often better-than-homemade fare, in a scene that's constantly growing and adding new recipes and flavors. While independent brands are popping up more and more in big-box stores like Kroger, Findlay Market has long supported lesser-known local brands. With more than 40 full-time merchants, the beloved marketplace offers a wide variety of products shoppers can't find anywhere else.
"The businesses, especially the businesses here at Findlay Market, really take pride in their products and try to get the highest quality that it can possibly be," says Findlay Market promotions and events manager Gina Regan. "So you're getting not only a delicious local product, but you're helping to support the local economy. You're keeping the money here in the community and it's often healthier for you."
Check out Soapbox's roundup of some of the best locally made snacks, many of which can be found at Findlay Market, as well as other locations around town.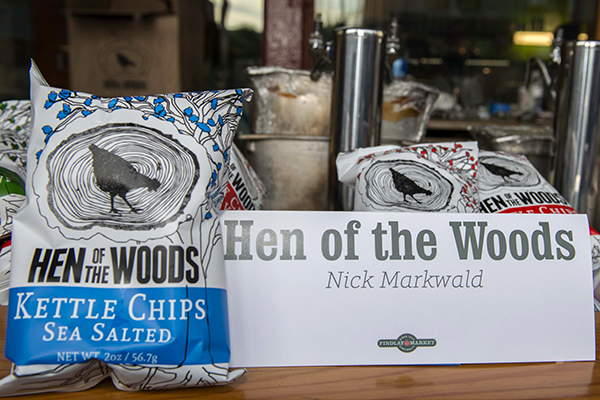 Hen of the Woods Potato Chips
These chips are crispy on the outside with just enough potato flavor on the inside. They're an addictive snack for any occasion, and come in a wide range of flavors, including the new Chili con Queso and Everything varieties. Owner Nick Marckwald started out in 2013 at a farmer's market in Washington Park and has since expanded to stores including Jungle Jim's, Kroger and Dirt: A Modern Market.
                                                                                        Mama Made It Kettle Corn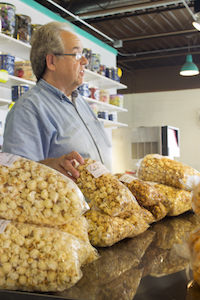 Mama Made It operates a storefront at Findlay Market
This delicious popcorn can be found at Findlay Market, Fountain Square and Country Fresh Market. Its bright, salty flavor makes this approach to kettle-style caramel corn unique to the Cincinnati area. Get a medium bag for $6.
Grateful Grahams
In 2010, Rachel DesRochers found herself unemployed and at home with a new baby. She decided to pursue her longtime passion for baking and created Grateful Grahams, she says, with "a message of gratitude." She is not only grateful for what she has, but wants to be able to spread the message of gratitude to her customers. DesRochers' take on traditional graham crackers is soft and flavorful, with almost a cookie- or cake-like texture. "We kind of say we're a gratitude company that makes the cookie, not a cookie company that talks about gratitude," says DesRochers. 
Grippo's Potato Chips
Angelo Grippo founded the Grippo's brand in 1919, and the potato chip line followed in 1959. The barbecue version of these local favorites is coated in signature dust — sweet at first, with a fiery aftertaste. They can be found at almost every grocery and convenience store in the region, and a large collection includes flavors like sour cream and onion, Maui onion, salt and vinegar and cheddar and horseradish.
Dojo Gelato
With more than 10 one-of-a-kind flavors, this handcrafted Italian ice cream is a tasty treat for gelato lovers in the region and beyond. Dojo Gelato was founded in 2009 at Findlay Market and has since added a storefront location in Northside. Customer favorites include cappuccino, peanut butter and Oreo, sea salt caramel and Nutella. Dojo handcrafts its gelato at the company's Northside location for a flavor that's fresh and vibrant with no artificial colors, flavors or milk powder.
Taste of Belgium
Taste of Belguim has experienced tremendous growth throughout the Cincinnati area since 2007, when baker Jean-François Flechet started creating the waffles he grew up eating. Originally based in Findlay Market, TOB has since opened locations at The Banks, Findlay Market and Rookwood Commons. Best known for its densely sweet and filling waffles, TOB's offerings have grown to include a full menu of breakfast, brunch, lunch and dinner items. The waffles are still sold separately in small packs starting at $12 in stores, at Findlay Market and online.
Donna's Gourmet Cookies
Donna's Gourmet sells mouthwatering bars, brownies and cakes, but the company is best known for its cookies. Thick and sugary, yet not too filling, Donna's creations are the perfect snack, especially its best-selling chocolate chip. The retail store is located in Montgomery, with availability at Findlay Market and several local farmers' markets. Cookies are $1.75 each, or buy a pack for $8.50-26.
Made by Mavis Artisan Canned Goods
There is nothing tastier than its blueberry and lime jam on toast, crackers or even savory dishes like roast chicken, and Mavis makes jams that pack a flavorful punch from the first bite. Chef Mavis Linnemann-Clark (who also owns The Delish Dish catering company in Covington), has a passion for dynamic and diverse canned creations. Made by Mavis sells about 16 different jam flavors, and buyers are encouraged to mix, match and create their own jam concoctions. The jams are available online, at Findlay Market and in specialty shops throughout Greater Cincinnati.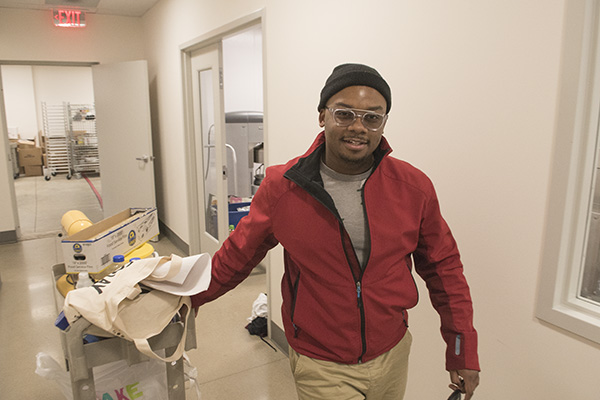 Obsessive Cake Disorder (OCD) Cakes
Chef James Avant IV was diagnosed with obsessive-compulsive disorder in college, but instead of letting his condition defeat him, he used it as inspiration for creating a unique (and tasty) array of cakes, cupcakes and cookies. Along the way, Avant found that baking soothes the anxiety brought on by his OCD. His baked goods range in price from $1-25 (depending on size and variety). He also donates 5 percent of the proceeds toward causes that support mental illness.