About ten years ago, the first mobile food trucks rolled into American cities. Now, according to the Washington Post, food trucks make up a $2.7 billion industry full of serious chefs and restaurateurs. For entrepreneurs interested in launching a new restaurant concept, a food truck is sometimes a more affordable way to test out an idea or introduce their menu to the public.
In Cincinnati, it took about five years for an influx of trucks to appear downtown. But food trucks are now a staple of any outdoor event's vendor line-up. They can be spotted at lunchtime, outdoor music festivals, and street festivals across the region.
A walk through one of these events can yield everything from ethnic cuisine to dessert and everything in between: soup, crepes, French fries, empanadas, or gelato. Each truck features its own menu, it's own chef, and its own distinct food culture (on wheels). Like every restaurant, every food truck has a different story. And, as with any business concept, food truck owners adapt and evolve to keep up with the demands of their customers and the industry.
BBQ, sandwiches, and sprinkles
When Kristen Bailey and Anton Gaffney opened Sweets & Meats BBQ in 2014, it was just a food tent for events and catering on the side. Two years later, they were still catering but moved their mobile operation into a food truck. Even though the business continued to do well, a food truck was never the end game.
"We've always wanted to open a restaurant," Bailey says. "However, without the capital or any outside investment, we started with what we had and continue to reinvest our profits."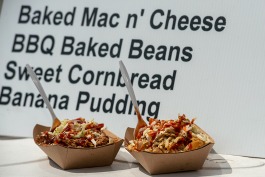 Sweets & Meats offers a variety of side dishes.
Last year, Bailey and Gaffney opened a take-out window in Mt. Washington where they now have normal operating hours five days a week. They decided to keep the truck open as well, and the decision has paid off. This year, Sweets & Meats BBQ was voted Mobile-Cuisine's 2018 Food Truck of the Year. The long-term plan is to open a full-service restaurant.
"We went from serving under a tent in a parking lot to having a food truck, and now brick and mortar, all in under three years, Bailey says. "We're extremely blessed and excited about all we've accomplished in a short amount of time."
For Over-the-Rhine's Panino, the food truck was a great beginning, but not the end of the story. They opened in 2014 and were featured in Soapbox's 30 must-try food trucks (http://www.soapboxmedia.com/features/052014-30-cincinnati-food-trucks-to-try-this-summer.aspx) that year, but retired the truck within a few years.
"We had an emphasis on doing large events so that we could serve our food to as many people as possible," co-owner Nino Lorento says.
"The goal was for the truck to be a promotional 'vehicle' for the concept, in hopes to have an opportunity to open a restaurant," he says. "My co-chef and business partner, Joe Helm, did the taste of Cincinnati twice, with a menu that was 100% sourced from Cincinnati farms and artisans — a feat which we are very proud of."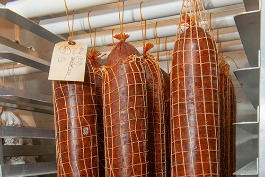 Panino's in-house, naturally cured meats
In 2016, Panino opened as a specialty sandwich shop and finely curated deli counter in Over-the-Rhine. The move was strategic, according to Lorento, as a way to get their food into the hands of foodies, influencers, and tastemakers. The end goal for Panino is to grow their retail line of natural cured meats while also expanding their business into what he calls their "fast casual concept." For them, the food truck was just a stop along the way.
In Walnut Hills, one neighborhood food truck has a different take on the business. Their business model has always been connected to their community as much as the food. The food is just a means to an end.
Started by local nonprofit I-58, Green Man Twist is a soft serve ice cream truck parked around the clock in Green Man Park, a public greenspace area along Walnut Hills' McMillan Avenue. As a nonprofit, all proceeds from Green Man Twist are given back to the neighborhood through affordable housing and education initiatives, including scholarships for school supplies and tuition. It is also a job training program with employees learning all the ins and outs of operating the business and having an equal voice in the operation.
Yes, Green Man Twist is a food truck. But it's really an experiment in social entrepreneurship. Walnut Hills is a neighborhood in transition, with old and new residents competing for real estate, business resources, and public space. Rather than operate one more business that pulls residents apart, they want to bring them together over something everyone loves: ice cream.
Two of its co-founders, RH Sweeten and Mark Leeman say even their parking location in Green Man Park was chosen to facilitate community engagement.
Through email, the founders elaborate: "The park being public space, it is not 'controlled' by anyone, which is important in a neighborhood where so many long-time residents feel they are being squeezed/priced out of their neighborhood… Hopefully we can mix all [residents] together in a hospitable space where they can actually get to know each other and really be neighbors instead of just living in the same place but competing."
"We call it a business for social change, and that drives us — all of us learning and growing and listening for how we can do it all better. All of us — white, black, young, old, women, men, from privileged backgrounds and from generational poverty — all dialoguing with dignity and shared power so we can serve and love a diverse and complex city and neighborhood."
Green Man Twist has a limited operating schedule (they are now closed for the season but will reopen for the Walnut Hills Food Festival on September 29), but it has been a real attraction for both Walnut Hills residents and visitors patronizing nearby restaurants.
Helping food truck owners and making Cincinnati more food-truck friendly
Surviving in any industry means learning to adapt when necessary. And as the food truck industry has gained ground around the country, local municipalities have had to adapt as well. Where should food trucks be able to operate and when? What sort of permitting and licensing should be required?
One of the solutions enacted by the City of Cincinnati was establishing designated Food Truck Zones. These are places where licensed food trucks are allowed to operate under the restrictions outlined in the municipal code. There are eight zones scattered throughout downtown in places like Fountain Square, Court Street, and Washington Park, and one in Uptown, near University Hospital. But even with new, food truck specific legislation on the books, operating a mobile food business has challenges.
Two local organizations — the Queen City Mobile Food Truck Association and the Cincy Food Truck Association — are working to support the mobile food truck network in Cincinnati. By advocating for more food truck-friendly communities and by helping operators navigate the ins and outs of the business, they are keeping the industry alive and thriving.
The Queen City Mobile Food Truck Association (QCMFTA) provides resources for local food truck owners to help them stay on the street and working. The QCMFTA's most recent project is an outdoor mobile food court, the first in the region. Located in a defunct gas station in suburban West Chester, the "Queen's Court" is set to open on October 5 and will feature about a dozen food trucks at the lunch or dinner shift.
Anthony Lange is the president and founder of the Queen City Mobile Food Truck Association. He says one of the biggest challenges for operators in Cincinnati is finding a consistent place to operate at peak hours.
"There are only a handful of designated locations in and around the downtown area where food trucks can set up shop," Lange explains. "Other than that, owners/operators of food trucks are left on their own. For food trucks that do this full time for a living, it's challenging to find places to serve every day of the week, especially for lunch."
The mobile food court seeks to solve this problem by offering a consistent hub for vendors, complete with public restrooms and amenities for the trucks like electricity, water, and storage.
Lange knows the challenges of operating a mobile food business. He also is president and founder of BrewCity Sausage Co., which operates a mobile unit for events. He anticipates the mobile food truck industry continuing to grow. New business owners, he says, will need support.
"As far as the QCMFTA is concerned, we will continue adding new members, serving our existing members base and do all that we can to help our members continue to earn a living with their mobile units," Lange says.
Amy Flottemesch, President of the Cincinnati Food Truck Association (CFTA), agrees that the industry is strong and will continue to progress. She says, "Our main goal in CFTA is to assist our members, being a guide and mentor in a cutthroat industry."
When the CFTA was founded more than five years ago, its mission was to help set a standard for the industry locally (they hold strict propriety standards for their nearly 80 members) and to support business owners.
A few times a year, the CFTA holds a Food Fest that features a few dozen of their member food trucks along with music, beer and wine, and merchandize vendors. It's a regional event that started as one event a year and continues to grow. The fourth and final Food Truck Fest will take place on September 22 at Summit Park in Blue Ash.
Aside from helping the business owners, part of CFTA's mission is to educate patrons about how food trucks operate and increase awareness of these hard-working business owners. As a food truck owner herself — Flottemesch owns Quite Frankly and Cheese-N-Chong — this is particularly important to her.
"For the majority of food truckers," she says, "this is our passion, livelihood and sole income … It's grueling, costly at times, and far from a hobby or millionaire money maker."
She continues, "Even with that said, we love what we do … and the best part: when patrons make it a point to swim through a sea of people just to holler to your window person or pop over to the open door at the back of the truck to tell you your food was 'the best thing I've ever tasted!' That is a golden moment as a food trucker."
Find a food truck
To find a food truck at any time, on any day, both CFTA and the QCMFTA recommend using the app StreetFoodFinder. The app is free and there is an online version as well. Search by day and/or location to see what trucks are open nearby. More than 80 Cincinnati-area vendors are listed with schedules updated in real time.